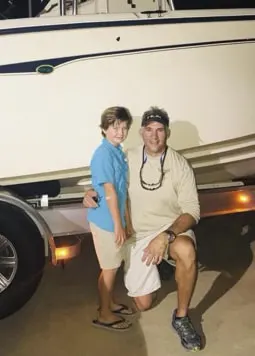 Trey Assunto
President
Motto
God first, wife second, family third, job fourth.
Verse
"Did you not know that I must be about My Father's business?" (Luke 21:49b NKJV)
About
Growing up I would often work at my dad's big and tall store for extra money and would learn my father's sound business practices. It was here that my father also invested in teaching me sound spiritual practices as well.  My dad was a devoted man of God, oftentimes reminding me that our purpose on earth did not only include selling suits.  He would play christian music throughout the store, offer advice and usually give the customer a little something "extra," even if they did not buy anything. I watched several testimonies unfold from the linoleum counters of the cashier station and witnessed grown men breakdown with tears in their eyes as my dad would lovingly remind them Who laid down their life and why.  I watched dry bones resurrect and the first become humbled. And while I was young and would have my own story of rebellion and dysfunction, I never forgot the impact it had on so many lives, and later the oxygen it would bring to mine, I have pictures of my dad in the office, with his favorite Scriptures quoted beneath. Everyday, as I come and go, the words stand as a stark reminder of what we are really here for.
As the president of War Horse Industrial with 22 years of experience in the oil and petrochemical industry of the Gulf Coast, I look forward to winning your business.